THE ETERNAL APOSTOLATE
Par Arnaud Dumouch
21 aug. 2006
Translation: Alain Quenneville
"I will spend my Heaven to do good on earth."
(Sainte Therese of the Child Jesus, Doctors of the Church)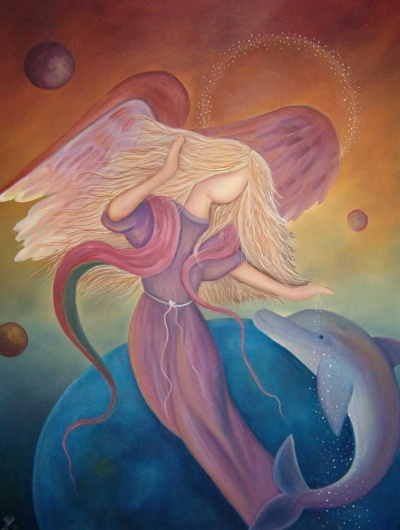 The dressmaker
My name is Raymonde. When I was living, I was a dressmaker in Ariège. I died when I was 81 years old, at the very beginning of the XXI st century, one week after my admission to hospital. Other than my son, my only concern had been my house and my two dogs, which had been left alone.
But I had to die and leave whatever I had here on earth. That was hard. As one gets older and alone, there seems to be a tendency to want to hold on to everything. Then, all of a sudden, we have to leave… everything.
My grave is somewhere between Foix and Pamiers, in the family vault. That's all. Doesn't it seem to be a sad destiny?
Well what a mistake that is. We haven't the slightest idea here on earth …
I never could have imagined all the treasures of love Jesus was going to stimulate in me. I never believed myself capable, at my age, to find the audacities of a young girl. Towards the end of my life, I had become plant like, desiccated by age and by the tepidity of my everyday existence. All of a sudden appearing to me in all his power and glory is Jesus who graces me with an energy that totally transformed my being into a young, beautiful and vibrant young girl. During all my life on earth, I really had only served Him at the eleventh hour, and as in the parable (But about the eleventh hour he went out and found others standing, and he said to them: Why do you stand here all the day idle? Matthew 20,6), yet I received the same reward as those who had served Him all their lives. I chose God at the hour of my death, and after a time of purification He drew me in to the vision of God.
He found, with much mercy, in the small things I had been faithful in during my life. I tried to raise my son well. And He said to me: "(Well done, good and faithful servant, because you have been faithful in small things, I will place you over many things. Enter into the joy of your Lord". Matthew 25,21.)
My first apostolate
Right after my entry into the vision of God, a guardian angel came to inform me. He showed up in his astonishing light and said as had been said to Mary (Luc 1,28): "the angel being come in, said unto her: Hail, full of grace, the Lord is with thee: blessed are you among women... because, you have found grace with God. Behold you shall conceive in thy womb and shall bring forth a son: and thou shall call his name Jesus. He shall be great and shall be called the Son of the Most High. " He wants to entrust me with the guardianship of one of my two great-grandsons. He put himself at my service so that we may decide the manner in which to guide him to heaven, according to his character. I asked the angel if he hadn't entrusted a too precious a charge to my care. I thought that he was much abler than I to make the appropriate decisions. A soul is priceless. He answered: "You've passed a great test. You knew misery of the flesh. You've sinned and you now know what is mercy. You espoused the Holy Trinity, in a spirit of love and humility. For all these reasons, you are better equipped than we, who wedded God in HIS light, without ever sinning. As a result our apostolate can sometimes be severe and accelerated. Your apostolate will be softer, more maternal. It will be more effective for his salvation. And we will obey you in all. "
I took over the task of guiding my great-grandson's salvation on December 1st, 2005, on his seventh birthday the same day I had died. These dates provoke amusing coincidences here. I noticed similar occurrences in all the families and they indicate bonds of apostleship angels like to create with the ancestors unto in eternity.
My great-grandson was bubbling and whole. He didn't pray all that much but he understood many things about the purpose of life. It was easy to keep an eye on him during his life, be it in joy or in suffering. He became what I had hoped for: humble therefore a star in heaven. And it is true that I was able to teach him humility and the love by using mild corrective measures when compared to those of yesteryears!
Queen
"The limit God will put on his creation, it is the limit of His love and His light." Yes it's me saying that! Me, a former dressmaker from Foix! It is easy to be a theologian when one sees God face to face.
But this sentence speaks volumes. It tells what occurs, after the end of this world… When I kept my great-grandson, I continuously visited the giant galaxies of the visible universe. And I noted for the moment, they were empty of any civilized presence (*This is a remark of blessed Anne-Catherine Emmerich). However, everywhere, I noticed the activity of the order of Virtues, the Angels in charge of life. They are splendid engineers who were sowing the universe. In various corners of this vastness, they had vegetable, animal and psychic forms of life evolving. What imagination in their work! Obviously, they were preparing something for God. And what they were preparing was abounding!
Then, my great-grandson died and joined me in God. Afterwards, I attended the end of the world. At the appointed hour, Christ came and put an end to Earth. Human and animal generations ended and the old planet, forsaken, finished it's orbital travels and burnt itself in the sun.
After the end of the world, we were all (good and evil) resurrected. We who were of God, lived in an eagerness to reacquaint and embrace each other. Each inhabitant of the Heaven no matter where they were, in this immense universe to be contemplated, never left the Trinity.
I'll never leave the vision of God and I do not have any other desire but Him, and the surprises, He has prepared for hi elect.
And then, one day, my spouse, spoke to me. "My queen, He says, I would like to entrust you with a mission." And God carried me in one moment by His Power to an immense but unknown planet, located somewhere in the universe where old Earth had been, and where all things wear, according to its own laws. This planet was entirely covered by a sea. God showed me a gracious animal, swimming in the sea in the middle of a whole world made of unknown animals and plants.
And God told me: "My angels prepared me this new world. What a nice gift on their part! I will bless their work by creating a new being with body and soul. This spiritual being will not be human but something else. I will infuse it with a soul to make a person from this pretty dolphin. Look at how great its sensitivity will be.
I would like to entrust you with the spiritual welfare of the first couple and their children. Entrust you until such a time, as you will have prepared a king and queen of their species, from amongst them, according to my heart, to help you. I trust you unreservedly. "
I asked my Love, God: "Why do you choose me, sire, for a so great a mission? Isn't there a more qualified, or a holier person?"
He then showed me a scene from my childhood. I was five years old. I was praying on my knees beside my bed and I asked God if, in paradise, I could be friends with animals. My father, who was held sitting beside me, told me: "You can't be friends with animals. They don't have a spirit. But God has secrets and powers. And all that we ask, He will give to us. He promised it. He's quite able to create, for you only, a new species endowed with a spirit. You should thus ask him. Your prayer will surely be fulfilled some day, in HIS way…"
And I had asked. And God remembered!
That's how I became the queen of a new breed of God's people, an immense people that He led to the beatific Vision.