Translated by Alain Quenneville
MARIN, VIRGIN SAINT AND MOTHER
"On the contrary, when you are invited, you should sit at the last place, so that on his arrival the host may say: My friend, come to the table of honour. "For everyone who exalts himself will be humbled, and he who humbles himself will be exalted." (Luke 14,11).

Bithynia towards 750
When Marin's father found himself widowed, his yearning turned to a monastic life. His only son who was less than 17 years old was a gentle and obedient young man. He also had a yearning for God so he along with his father both applied and accepted as monks. Brother Marin practiced his religious life with much piety, and obedience. The years passed. His father fell sick, called for his son, spoke to him at length about God, his religious vocation and, then had him take an oath of perseverance and then died. Marin was 27 years old.
Marin often went with the oxcart to bring wood to the monastery. It was difficult work that sometimes required an absence of a day or two. Under those circumstances he usually stayed at a hotel.
At the hotel was a young girl who found herself pregnant. When her father realized her state, he browbeat her until she revealed who the father was. Pressured on all sides, she accused Marin the monk of rape.
There was a great scandal. Marin was arrested and not to gently interrogated. He was summoned to acknowledge the deed, by his Abbot then by the sergeant. He remained quiet but asked for mercy. This was interpreted like an admission; The Abbot convened a council and decided to immediately drive him out of the monastery.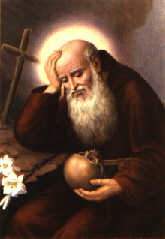 Despairing Marin didn't know where to go. He was but a simple soul and had he been too long at the service of God to move away from his church. So he settled under a staircase near the monastery door. He satisfied with whatever the kitchen deigned to give him. He remained all of three years under his makeshift haven.
When the child was weaned his grandfather decided to get rid of it and carried it off the Abbot. The child was given to Marin to bring up. For another two years they stayed under the same staircase. He raised him with much tenderness and love for this child who, sharp and full of life, reciprocated fully to the care he was receiving.
However, the monks, couldn't help but notice Marin's patience and devotion in all things. Some were even stunned that he could even have been able to commit rape. It was generally thought this was a mutual consent affair gone wrong. However, he never denied his culpability, satisfied himself with his silence. Finally, seeing him in such a state of misery with the infant, the monks decided to have pity on him and to receive him in the monastery, as workman. He was relegated to the dirtiest jobs. The abbot forced to him to sweep and serve them. Marin accepted and discharged his tasks with all the courage he could muster. It was beyond his means and subsequently after a few days of illness, he surrendered his life, on June 18th, 750.
The abbot resolved not to bury it in the monk's cemetery but off somewhere in un-consecrated ground.
Last judgment
"A charming story!" said Lucifer heavy with irony to Marin when he arrived from beyond death's doors "There's humility, softness and then there's a syrupy ooze. But there's especially lies. And, on this point, even the words of the Saviour are precise (James 5,12): "Above all, my brothers, do not swear—not by heaven or by earth or by anything else. Let your "Yes" be yes, and your "No," no, or you will be condemned." My son, your fault is liable to eternal damnation, according to traditional theology."
And Marin did not defend himself. He had for a long time given up defending himself. He wanted just to remain in the house of the Lord. He was prostrate on the ground, and turned his thoughts toward the Lord and the Virgin Mary, accepting in advance the eternal fate that he guessed at.
Because the angel of darkness never releases a prey, if he can't find anything to seduce with or accuse of, he lies. As in Marin case arriving here prostate and repenting for his many sins, [not for any rape since he hadn't committed rape] but for sins that he recognized in advance.
However these faults existed only in Lucifer's mind. It was a pitiful spectacle made even more contemptible by his rhetoric and his web of lies. The guardian angel assisting Marin in his passage through death's door knew this man would never think of himself first.
The heavenly hosts came to defend him, as it was the custom for those rare tender souls and gentle hearts. A great anger rose against Lucifer, an anger that almost shook the heavens to its core.
We shall make an example of the contempt for values most respected by man like honour and justice because the values like humility and love, you followed heroically pleased God. You will now be charged with the responsibility to accommodate unwanted children, because with love and for two years, you raised a child who wasn't yours with you under your staircase. You will be also charged with the mothers who refuse their child, since you preferred to live martyrdom rather than to tell on the real mother, a poor sinner. You will be kept for a great role on earth, towards the end of the world.
Christ uncovered the truth and revealed Himself to Marin and raised him up. Holy virgins and the martyrs Agnes, Cecile and Anastasia, then accompanied him. They told him: "Today you enter the procession of virgins and martyrs. You will remember for eternity for what you have lived and endured. You will carry a crown that will shine far and wide to illuminate the whole world. You will be a model for the contempt of the values most human hold to as honour and justice. All this because of you heroically held on to values that most resemble God, humility and love. You will be charged with the care of children that aren't wanted on earth, because for two years, you lovingly raised a child who wasn't yours under your staircase. You will be also charged with the care of mothers who refuse their child, since you preferred martyrdom rather than accuse a poor sinner. You will have a great role on earth, towards the end of the world. "
Marine was very disturbed by this greeting, which constituted his particular judgment. Its really true what Christ said (Luc 14,11): "For everyone who exalts himself will be humbled, and he who humbles himself will be exalted"
Joyful and confused, he entered the banquet hall because today he entered God's felicity beholding HIM face to face
Seism on the ground
And Heavens anger against Lucifer had made the universe tremble. That evening at the monastery, the abbot charged one of the monks to dig a hole somewhere in nature to bury Marin. The monk who had always appreciated the discrete and obliging nature of Marin, chooses a hill and, in spite of the roots and the increased work, he started to dig the grave under a tree.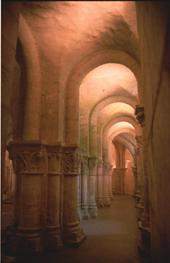 Another brother was charged with readying the body.
Suddenly there was excitement and confusion at the monastery. Running all the way too the Abbot's cell the monk was screaming:" Father, Father! Brother Marin is a woman. There is no doubt. It's a woman!"
They were all amazed and very frightened. The Religious office was suspended that day. All the monks were dumbstruck by this extraordinary news. They all looked at each other and wondered how it was possible. They reconstituted their history: "Marine's" father, wanted to enter to the monastery where no girl was admitted, had changed his daughter, hair and clothing so her appearance would pass her off as a man and then before he died had made her promise, until death, never not to reveal her sex.
Reconsidering the miserable way brother Marine had been treated for this supposed rape, one wondered how it could ever be possible to obtain forgiveness from God for such ignorance and a so great a sin. Everyone was behaving like a child; not knowing what to do or think and the abbot wasn't any better than all of them. They all owned up to a severe lack of judgment, they all realized now as to why the fragility of body. One thought especially of her holiness. And one said oneself: "Why didn't she defend herself? That she had been afraid of the forceful police interrogation is one thing. But why not e protest her innocence, during all these years?"
When the young woman by whom the scandal had originated was told, she was seized with a great fear. She wanted to commit suicide thinking she was going to undergo same violence that she had, through her lies, subjected Marine. She confessed that she had slept with a passing soldier. However no one punished her for the wrong she had committed. Frightened by the thoughts of the last Judgment undoubtedly wanting to imitate the silence and gentleness and of Marin brother towards her, she later went to his tomb and felt surrounded by a miraculous peace and forgiveness.
Sainte Marine was buried with honour, in the church of the Monastery. They came from everywhere to her tomb where a great number of miracles took place. The story was transmitted throughout all Christendom when her relics were transported from Constantinople, Venice, and Paris, where a church was raised in her honour.
In 2005, Saint Marine was declared, jointly with Saint Therese of the Jesus Child, patron saint for the celestial adoption of the children having died without baptism. This decision, made by a small group of Catholics, did nothing but ratify another Heaven's decision